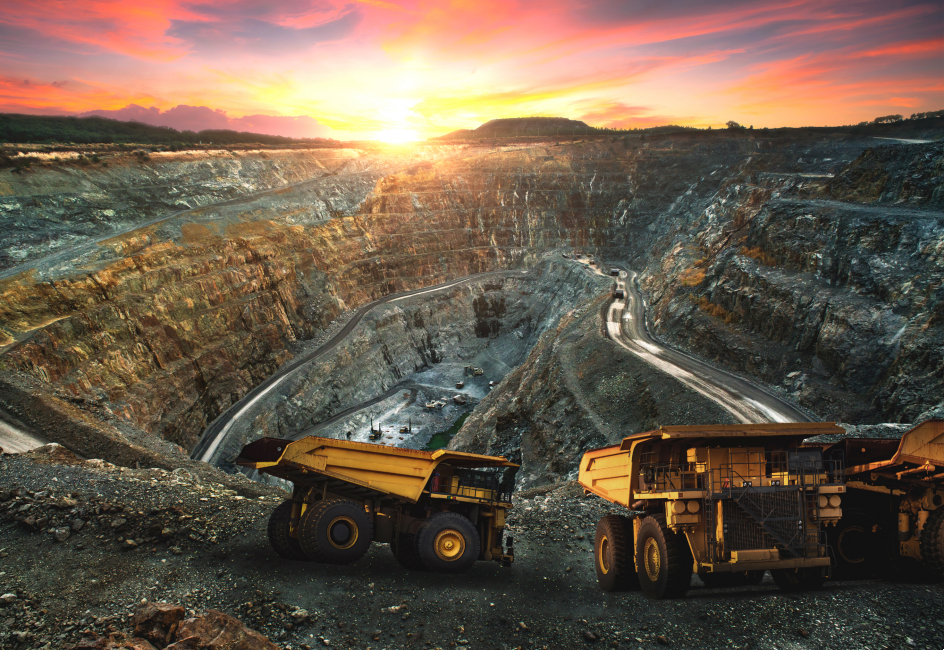 As with many industries today, new, disruptive technologies are profoundly transforming the mining of minerals and natural resources. Indeed, mining firms are now enjoying production boosts, lower costs, safer working environments and more efficient mine operations, among a myriad of benefits that such technologies are facilitating. This article examines four technologies with some of the most significant impacts on today's global mining industry.
Drone technology
Drones are proving hugely effective for mining today, mainly by offering convenient, safe and cost-effective ways to survey mine sites aerially, as well as providing the means for effective data collection and continuous monitoring of virtually the entire mining operation. And given the often inaccessible locations of sites, drones are reaching areas that would otherwise be challenging for humans, thereby allaying concerns over workers' safety and boosting overall efficiency. As such, mine drones are now being used with increasing urgency across all operational phases, including exploration, drilling and blasting, and reclamation.
There are two main advantages to using drones in mining operations, according to a 2020 research paper by the New Mexico Institute of Mining and Technology (New Mexico Tech, or NMT). "First, drones equipped with different types of sensors can conduct a quick inspection of an area, either in an emergency situation or hazard identification. Second, inspection and unblocking of blocked box-holes and ore-passes can be done using drones. Drones can also be used for blockage inspection, explosive, and package delivery." Indeed, a recent report from Swiss drone company Wingtra on how its drones are being used within the global mining industry cited hazard identification among the most common applications. "Correcting potentially-dangerous site features and avoiding safety hazards is easier when you have more frequent and more accurate surveys of all of the active areas of your mine," the report noted. "This has been well known and researched since earlier days of the technology."
Drones are also becoming crucial for monitoring water and sediment flows. "It's easier to manage your site and prevent setbacks and hazards related to uncontrolled water movement with more frequent aerial surveys based on a more accurate comparison of terrain and water levels," the Wingtra report noted. "Mine sites also need tight water treatment and management plans to begin aligning to the technological age of industry."
Collision-avoidance systems
Ask a mining professional to list some of the biggest problems facing the industry today, and chances are that the concerning number of fatalities that arise, particularly from vehicle interactions, will feature in his or her answer. Indeed, the International Council on Mining and Metals (ICMM) formally aims to eliminate all such deaths by 2025. But in the meantime, it appears that investment in collision-avoidance technology is among the leading ways to help mining firms minimise such tragedies.
Safety-related technologies are experiencing a dramatic upswing in adoption among the world's leading mining companies. GlobalData's "Mine-Site Technology Adoption Survey 2023" of key personnel at 150 individual mines found that over the past five years, mine operations that have invested in collision-avoidance technology have risen from 62 percent to 72 percent. "With 30 percent to 40 percent of mining industry deaths globally attributable to failures of vehicle interaction controls, this is no surprise. Advances in collision awareness are arguably already showing results, with one TMM (trackless mobile machine)-related death reported this year to date in South Africa," Gert Roselt, chief executive of mining company Probe Integrated Mining Technologies (Probe IMT), told mining news outlet Mining Weekly in November 2022.
This industry-wide movement is also supported by the stricter standards being implemented for the collision-avoidance technology itself, as stipulated by the Earth Moving Equipment Safety Round Table (EMESRT), which has now launched Level 9 (intervention controls) of its Vehicle Interaction Defensive Controls Model. With Level 8 (alert controls) requiring systems to deliver an advisory instruction to operators, Level 9 involves further safety mandates, with systems automatically taking control of the vehicle to slow it down when the collision risk rises. "Implementing reliable integrated systems that can comply with Level 9 requires long-term commitment and solid investment in sophisticated CAS systems that provide high integrity object detection, operator warning and automatic intervention, when necessary, to prevent an accident," Roselt added.
The GlobalData survey also found that 30 percent of respondents had fully implemented collision-avoidance technology, the largest regional share of which is in Australasia, with the largest regional share expected to invest in such technology within the next two years in the Americas at 37 percent. Of the respondents, 21 percent are currently at Level 7, 31 percent at Level 8 and 18 percent at Level 9, with the Level 9 percent expected to rise to 28 percent over the next two years. And according to a separate report recently published by Infinity Business Insights, the global mining-operation market for collision-avoidance systems will grow at a compound annual growth rate (CAGR) of 10.2 percent during the forecast period of 2023-30. The growth of the market is driven by the growing demand for safety in mining operations, rising adoption of automation in mining and increasing government regulations, the report noted.
Artificial intelligence
Artificial intelligence (AI) is dramatically smartening up the global mining industry today, particularly through daily operations such as streamlining data, eliminating information silos and shortening application-development cycles. It is arguably the Chinese tech giant Huawei that has introduced the most innovative AI solutions to the industry, largely under its overarching goal to build "intelligent", AI-centric mines by "transforming the industrial system architecture, and a mining industrial Internet that uses unified standards, architecture, and data formats is the only way to make the entire mining production system intelligent". And by combining AI with other smart technologies such as 5G broadband cellular, cloud computing and the Internet of things (IoT), Huawei is creating its Industrial Internet Architecture to make mining safer, smarter, cleaner and more efficient.
This can be best observed by the example of MineHarmony, Huawei's operating system, designed to unify data standards to enable mining equipment to "speak" the same language. Using the example of a coal shearer that will usually need to use three different operating systems, three communication protocols and 161 kinds of chips, Huawei has noted that MineHarmony ensures consistent data protocols and formats and simplifies the connections between different equipment, making intelligent collaboration possible. "For equipment, we need to continue improving and promoting dedicated operating systems such as Mine-Harmony to unify data access standards and specifications," Ge Shirong, president of the China University of Mining and Technology-Beijing (CUMTB) and Beijing academician of the Chinese Academy of Engineering (CAE), told Tech Wire Asia in November 2022. "Intelligent coal mining has been promoted rapidly in China. Digital technology is key to helping coal mines achieve this goal, but still has a long way to go."
AI is also proving instrumental in helping mining firms boost production, with the recent announcement of a partnership between Microsoft and mining giant BHP being launched to optimise operations and boost output at the world's largest copper mine, Chile's Escondida. Machine learning (ML) techniques are being deployed on real-time data from copper concentrators to make hourly predictions and thus optimise recommendations to the operations team. "We expect the next big wave in mining to come from the advanced use of digital technologies," according to BHP's chief technical officer, Laura Tyler. "As grades decline at existing copper mines and fewer new economic discoveries are made, next-generation technologies like artificial intelligence, machine learning and data analytics will need to be used to unlock more production and value from our existing mines."
Digital twinning
By digitising physical environments, spaces and processes, digital-twinning technology can conveniently render virtual, interactive digital models of those physical equivalents. In the mining industry, such technology enables operators to visualise a mine from the convenience of the office, thus optimising its operation, maintenance, productivity and safety.
Late April saw an intelligent mine solution powered by 5G and jointly developed by Huawei and Shaanxi Coal and Chemical Industry Group celebrate its first anniversary of continuous operation. Leveraging 5G, cloud computing and AI to boost production, efficiency and operational safety within Shaanxi's coal mines, the solution's most notable feature has been its ability to build virtual mines as digital twins of their underground physical counterparts, thus generating value for Shaanxi efficiently and safely.
According to Shaanxi's May press release, moreover, its Hongliulin Coal Mine now has 18 percent fewer workers underground, 97.7 percent of its mine faces are supported by intelligent mining, and intelligent management for the underground mine face is facilitated using 5G video splicing and video calls. "More than 2,700 sets of equipment at the mine are now interconnected using unified data standards, with 170 million pieces of data being streamed to the data lake every day," the statement added. "These data have been used to create over 100 digital models, and they can also be used to inform production and operation decision making and develop new digital applications using 'zero-code' development tools."